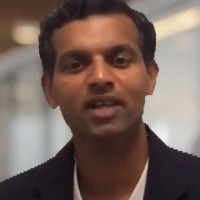 Sreekumar Chandra
---
---
Expertise Areas
Agile
Scrum
Agile Project Management
Business Delivery Executive
Program Management
Agile Methodologies
---
Summary
I am a Program Leader and Agile expert with 22+ years of industry experience where I achieved Business Agility, delivered business outcomes and shaped customer success with large global teams. Managed budget in excess of 15M USD. My core expertise areas are:
1) Engagement Management / Large scale Program Delivery
2) Agile Product Development, Strategy, Transformation, setup Agile PMO
3) Agile/SAFe5.0 Training, Coaching (accredited SAFe Instructor)
Delivered Agile success to a diverse portfolio of organizations and clientele such as Microsoft, Amazon, Starbucks, Walt Disney, Sapient, Accenture, NBCU, Siemens Healthineers, Entergy, Lumeris (Healthcare), FDIC (Govt. agency), Global Tranz (Transportation), Nestle, Michelin Tires (Manufacturing), Telecom: Verizon Wireless, Sprint Nextel etc.
Played leadership and key Agile roles such as – Transformation lead, Product Owner, RTE, Lead Scrum Master managing teams of size 100+ (and 2 Release Trains), part of several Agile teams in different organizations and product teams.
Trained 2000+ people (project teams, client teams and public) over the past few years.
Certifications and Enablements: PMP, Certified Product Owner (CSPO), Certified Scrum Master (CSM), SAFe5.0 SPC, SDP, PO/PM, SA, SP, SSM, SASM.
---
Certifications
Certified SAFe® 5 Program Consultant - 2019 Scaled Agile, Inc.
Certified SAFe® 5 DevOps Practitioner - 2019 Scaled Agile, Inc.
Executive Presence - 2019 Black Sheep
Executive Leadership - 2016 American Management Association
DevOps Fundamentals - 2016 Lynda.com
Certified Scrum Product Owner (CSPO) - 2009 Scrum Alliance
Certified ScrumMaster (CSM) - 2008 Scrum Alliance
Project Management Professional (PMP) - 2007 Project Management Institute
---
Education
Purdue University - 2019 - 2020
Master of Business Administration - MBAField Of StudyBusiness Administration and Management, General
National Engineering College
Degree NameB.EField Of StudyElectronics and Communication
A.V.Rm.V Matriculation Higher Secondary school
Grade 12Field Of StudyComputer Science
---
Featured Reviews